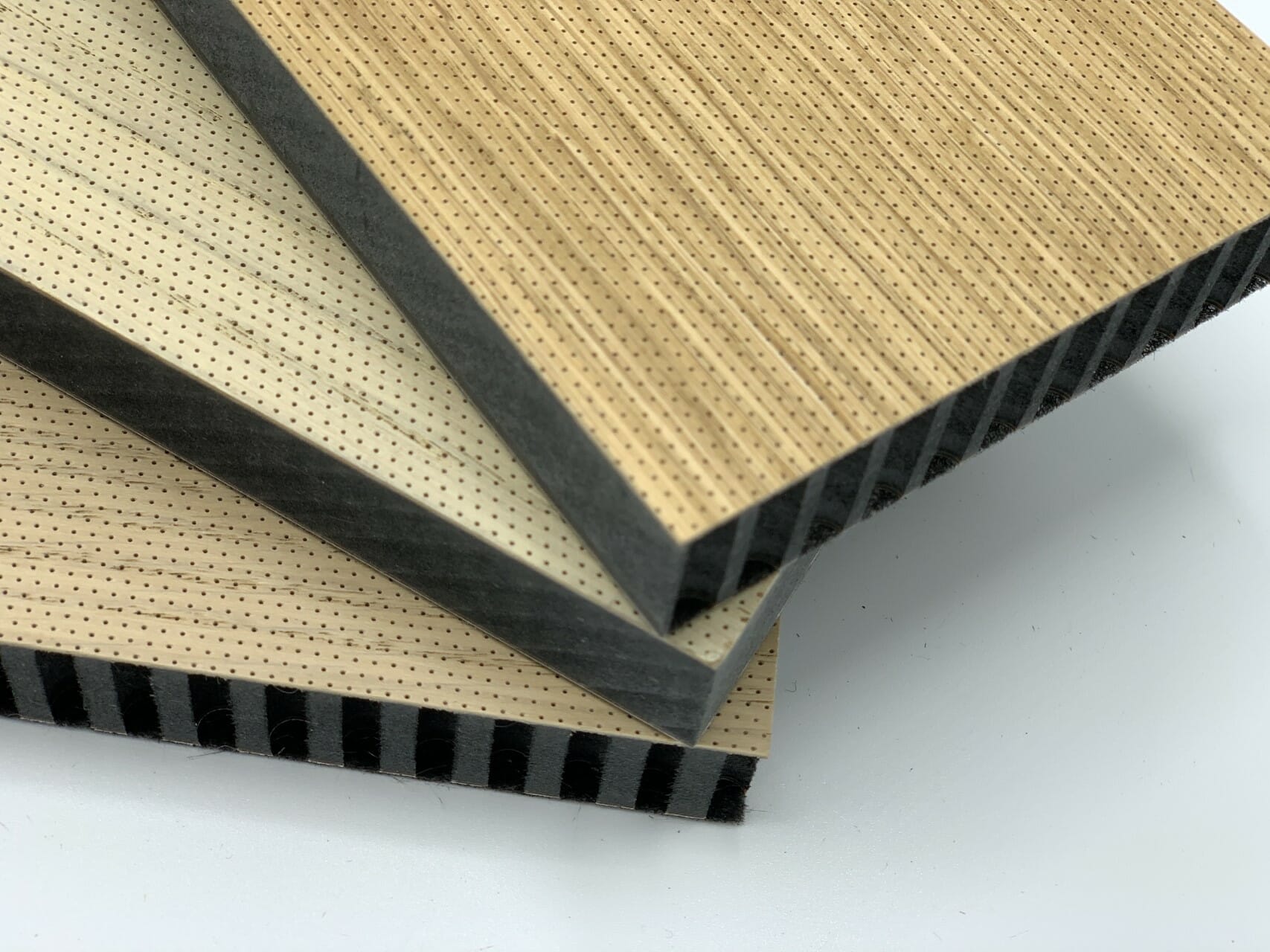 Shinnoki Acoustic
 Shinnoki Acoustics aims to combine the beauty of real wood with the reduction of human voice reverberation.
 That is why you can use our panels for walls, cabinet doors, ceilings, furniture, interior door cladding, etc. and order them in one of the six standard veneers or in one of the 16 prefinished veneers of the Shinnoki® range. ( See more about Shinnoki here)
Tac
TAC is made with porous, expanded polypropylene bead foam compressed into a dense panel suitable for ceilings and walls. Class A fire rated and water proof, TAC combines great acoustical performance and sleek looks with a highly effective tack board surface.
Texaa
 The Texaa acoustical system is a series of products from wall covering to modular panels all of which having the same high performance fabric facing in common. Available in single panels or grouped for ceilings, Texaa panels have a rigid aluminum frame for stability and a light weight foam core for absorbency. Fabric facing called AERIA is acoustically transparent and may be used over speakers. 
WUL
WUL is a recycled content PET acoustical panel with an NRC of .9, a Class A fire rating and panel size of 4'x8′ x 1″ thick. WUL can be easily installed with Liquid Nails or a similar construction adhesive and can be cut with basic woodworking tools. WUL is lightweight, mildew and moisture resistant and made to order. 
Plyboo Sound
 The PlybooSound panel brings together the elegance of our bamboo architectural designs with proprietary sound dampening QuietWall™ technology to help reduce ambient noise. Great for hospitality, public venues and large open work spaces. 
Custom acoustic solutions by MPS can reshape and bring any type of workspace to life. MPS Acoustic Panels are the energy that inspires, improving the aesthetic environment while providing significant sound absorbing benefits. Sound Masking and Custom Felt panels and objects combine in a space to deliver quiet and peace for an optimal work environment.